Darwin's Day at the Faculty of Biology UW!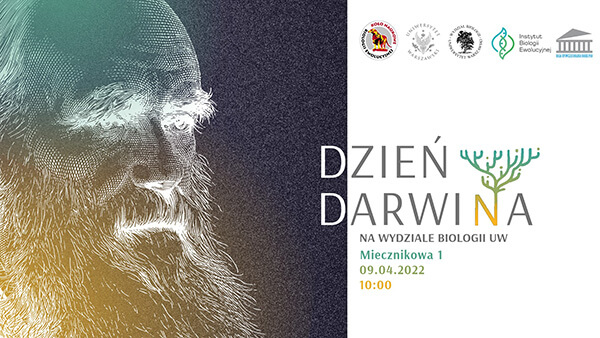 Join us during this year's edition of Darwin's Day at the Faculty of Biology UW, which will take place this Saturday, 9th April!  Lectures by top scientists, exhibitions by the student community and opportunity to see the Museum of Zoology in the University of Warsaw Biological and Chemical Research Centre are waiting for those craving for evolutionary knowledge.
The backbone of our event consists of 7 lectures by distinguished Polish and international researchers, presenting different views, approaches and methods of studying the evolution of life on Earth.
The lectures will be given by:
prof. dr hab. Krzysztof Spalik
prof. dr hab. Jerzy Dzik
prof. dr hab. Paweł Golik
dr hab. Marcin Zych, prof. ucz.
dr hab. Anna Karnkowska
[lectures in Polish] dr hab. Kenneth de Baets
dr Sergi López-Torres
[lectures in English]
Non-lecture activities are available both in Polish and English.
Darwin's Day is an international celebration of biological evolution, usually taking place on February 12th, on the Birthday of one of the greatest minds in the history of natural sciences. Due to the pandemic we had to postpone the event until April 9th, which allowed us to retain the on-site mode and host it in the Faculty of Biology building on Miecznikowa 1 street.
Should many people attend the event, we strongly recommend using protective masks.
Facebook event link: https://fb.me/e/1ufiCVlh0